Here is a rundown of what I believe to be the top 10 goals I have witnessed, entry to this top 10 is through virtue of technique, originality and importance. It was hard to pick only 10 as you can imagine, we see great strikes in the Premier League every week and it took all my strength to not just have the top 5 made up of Spurs goals versus Arsenal, in fact David Bentley and Danny Rose both came very close to making the list for their stunning volleys, but this is what I decided upon, enjoy...
Karel Poborsky v Portugal Euro '96: This goal was the inspiration behind thousands of players on a Sunday morning starting to try and lob the ball over a 'keeper when one-on-one, often accompanied by a shout of 'Poborrrskkky!!' As an eight year old I would dump my three year old brother in front of our goal in the garden and continuously attempt to 'Poborsky' him, some questioned the intention of the Czech international to lob the on rushing Vitor Baia, but he proved this was intentional by repeating the feat for Benfica in a domestic match versus FC Porto, scooping the ball over, once again, Vitor Baia!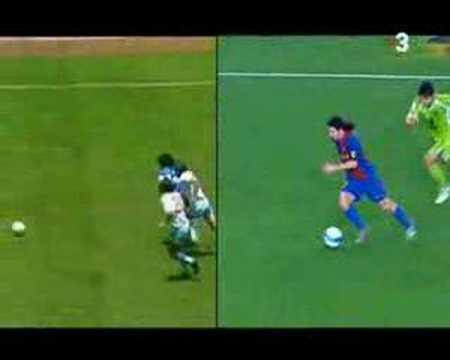 Lionel Messi v Getafe 2007: This run and finish was incredible due to its comparison with the great Maradona goal against England in World Cup '86. Like Maradona, Messi started with the ball in his own half beating six players and the goalkeeper before slotting running to the corner flag in Diego esque fashion.
http://www.youtube.com/watch?v=nXzXsdZJ5AQ
David Beckham v Wimbledon 1996: Every child with a remote interest in the beautiful game, dreams of scoring that wonder goal from inside their own half, Pele was praised for nearly achieving it, Nayim earned himself a song for doing it against Arsenal and England 'keeper David Seaman, and David Beckham first made his mark on the Premier League by successfully beating Wimbledon goalkeeper Neil Sullivan from the half-way line.
http://www.youtube.com/watch?v=DaSI2SiqNyA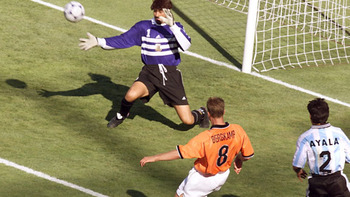 Dennis Bergkamp v Argentina World Cup '98: The travel sick Dutchman has been described by many as Arsene Wengers best ever signing. Bergkamp scored an almost identical goal for Arsenal against Leicester, but the importance and magnitude of this goal earns itself a place on this list. After a long ball from Frank De Boer, Bergkamp elegantly pulled it out of the sky, before cutting inside and toe poking past the Argentine 'keeper.
http://www.youtube.com/watch?v=Uc1H2hOHu_s
Paul Gascoigne v Arsenal 1991: I'm too young to remember this goal when it happened, but it appears on every Spurs greatest goals DVD. FA Cup semi-final, North London derby, step up the genius that was Paul Gascoigne, unleashing a thunderbolt free-kick past David Seaman and sending Terry Venables men into the FA Cup final.
http://www.youtube.com/watch?v=GVMaIUSeRxA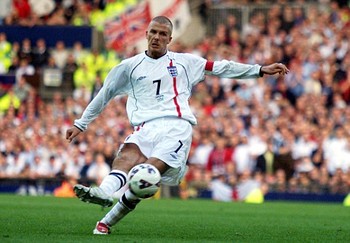 David Beckham v Greece 2001: Now this is a free-kick I do remember, with England needing at least a draw to qualify for the World Cup the following summer, they somehow found themselves 2-1 down in stoppage time and heading towards the play-offs. Beckham had virtually played Greece on his own that day, inspired by the Old Trafford crowd (when still a Utd player) the England captain had covered every blade of grass, set up the first goal and had seen a free-kick already narrowly miss. The nation held its breath, Beckham just picked his spot, and England's qualification under Sven had never been in doubt.
http://www.youtube.com/watch?v=t0GESlaVNdE
Michael Owen v Argentina World Cup '98: It's sad to think that this goal from an 18 year old Owen was probably the highlight of his England career. At the time it showed such promise, he was what England had been missing, sheer pace and the composure to finish under pressure. This goal had the whole of England believing Owen was going to lead us to World Cup glory, for a few minutes anyway, until the inevitable heart break of a penalty shoot out unfolded, cue Batty and Ince.
http://www.youtube.com/watch?v=BFcTVlLj8Q4
Paul Gascoigne v Scotland Euro '96: Fittingly the Carslberg advertisement was displayed as Gascoigne showed off his infamous dentists chair celebration, and if Carlsberg did goals, this would certainly be one of them. Moments after David Seaman had saved a penalty from Scotland's Gary McAllister, Gascoigne found himself on the edge of the Scots penalty box, the cheeky Geordie sporting a bleach blonde hair cut, lobbed the ball over a bemused Colin Hendry, before volleying expertly past Andy Goram.
http://www.youtube.com/watch?v=g0NT6aUwN8c
Ricky Villa v Man City 1981: From an early age I was forced to watch this goal on my dad's old VHS copy of the 1981 FA Cup final. The first game had ended in a fairly boring one all draw and my dad has just happened to secure tickets to the replay. He can often be refereed to describing what happened next as 'The Best Moment of My Life' and yes he has been married twice and has five children. With the game poised at two each and Steve Mackenzie of Manchester City having already scored what John Motson called in commentary one of the best FA Cup goals of all time, the Argentinean Villa went about making 'Ossie's Dream' come true, beating three players on his way to goal, with my dad and 40,000 other Spurs fans screaming at him to pass it, he slotted past the oncoming Joe Corrigan and won the cup for Tottingham.
http://www.youtube.com/watch?v=R44tPArJIy4
Jimmy Glass v Plymouth Argyle 1999: Possibly the most important goal ever scored. Jimmy Glass, a goalkeeping journeyman, who's only other claim to fame had been scoring an own goal at Wembley in the Football League Trophy whilst with Bournemouth a year previous, saved Carlisle from relegation out of the Football League and into football obscurity. On loan from Swindon Town and in only his third game for the club, Glass found himself in a relegation scrap, the last day of the 98-99 season found Carlisle United seconds from going down, a long ball from Glass resulted in a corner and the keeper ran the length of the pitch to make himself an option in the penalty box. Some uncertain defending from Plymouth Argyle saw the ball find itself at the feet of Jimmy Glass and he struck home to earn survival for the Cumbrians, second later he was mobbed by pitch invading fans unable to contain their delight, and no doubt relief, at the clubs great escape.
http://www.youtube.com/watch?v=PA9EByvjG3M